My Single Pear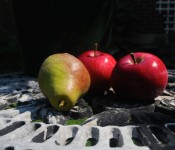 The pear tree, now standing tall in the north west corner of the orchard, was the first fruit tree we planted.
It has grown well these past few years. Regal is the adjective that always comes to mind when I think of this tree. I love this tree.
Not long ago, I reported the first blooming of this tree. These blooms ended up producing one small pear.
The cider-maker part of me may not be able to make perry out of a single pear, but the scientific part of me is happy to consider this tiny harvest as "proof of concept" with respect to the fruiting of this tree. This is good.
Oh, and I was able to get a few photos out of this single pear: a model pear from a regal tree.