A Dozen Orchard Dwellers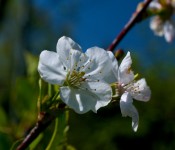 The orchard began humbly two years ago with only a few specimens. Since its establishment, each year has brought new dwellers to the orchard.
While it is perhaps not large in terms of size, the orchard is growing in layers of assortments and varieties.
The perennial collection now consists of 12 varieties of fruits. As you see, I should consider adding one more variety so I can claim a "gardener's dozen."
Since this blog is also serving as a repository of garden-related information, let me squeeze in a list of the current permanent dwellers of the orchard:
Trees
crab-apple (established unknown variety)
sour cherry (Meteor)
pear (5 varieties grafted: Anjou, Bartlett, Flemish Beauty, Seckel, Comice)
plum (Brooks Gold)
Shrubs
raspberries (established unknown variety)
blueberries (3 varieties: Spartan, Duke, Chandler)
goji berry
Saskatoon berry
gooseberry (propagated from unknown variety)
Vine
grape (Montréal Blue)
Miscellaneous
strawberries (2 varieties: Ozark Beauty and woodland)
rhubarb (not a fruit, special consideration; established unknown variety)
It will take a few years for some of these young dwellers to grow to a size sufficient enough to produce an appreciable harvest. In the meantime, they garnish the estate with their beautiful vegetation.
I will leave you with images of this year's sour cherry blossoms.