Here Comes Lemon Balm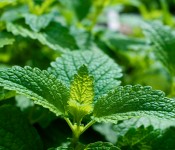 The scent of lemon balm brings back childhood memories I never want to forget.
It evokes warm feelings from a time when life was simple and happiness was easily found in the backyard.
As children, we used to apply lemon balm by rubbing in on our bodies and pretending it was a force field that acted as protection, keeping us safe from our enemies. I must have heard that applying lemon balm in this way helps repel mosquitoes. But for us, these powers were much stronger. Anyone or anything intending to harm us would be detected and fall to the ground when they were closer than a few feet of us.
We had another way of using lemon balm. Sometimes we would steep the leaves in water and drink the potion to make ourselves undetectable to the human eye. At the very least, the potion quenched our thirst and tasted great.
We conquered many battles with lemon balm.