An Orchard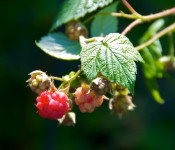 I have always wanted an orchard.
For as long as I can remember, I appreciated and respected orchards. I vaguely remember visiting one in the Annapolis Valley as a child. It may have been one of the first times I had seen a pear tree.
I love pear trees. I love sour cherry trees. And… if you get me speaking of fruit trees and shrubs, I must mention blueberries and raspberries.
Yes, I have long dreamed of having an orchard.