Are You an Outdoor Introvert?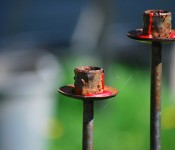 This is a good time of year to be an outdoor introvert — when the flowers are blooming, the birds are singing and the sun is shining bright.
I consider myself a very lucky person to be able to enjoy and appreciate solitude.
I find that spending time in the garden is the quickest way to get a moment of zen. In the garden, alone with my thoughts, I let nature enchant me.
I'm an introvert… I love being by myself, love being outdoors, love taking a long walk with my dogs and looking at the trees, flowers, the sky.

Audrey Hepburn