Falling Into Place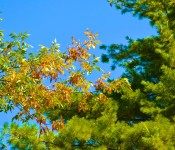 Montréal is looking beautiful with the arrival of fall. Crimson and golden colors are taking over the city.
Leaves are changing color so rapidly that at moments, they look bashful as they turn red-faced.
They have no reason to be bashful because they are great teachers. The colorful leaves teach us to have reverence for the cycle of life. They gently remind us that nothing stays the same.
Everything falls into place, over and over again.