Doodle 50 of 95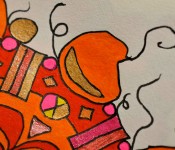 Sketchbook Project – Page 50 – "Curlicue"
(gel ink, metallic gel ink)
Doodled up, curlicues and all.
Comedy has to be based on truth. You take the truth and you put a little curlicue at the end. ~Sid Caesar
[The sketchbook project is explained in this post.]
Stéfan is a writer, doctor, medical communication consultant, gardener, photographer and a doodler. In addition to contributing posts, Stéfan is also a co-creator and editor of CASLworks.
Stéfan