Doodle 51 of 95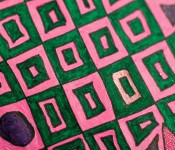 Sketchbook Project – Page 51 – "Which Direction?"
(gel ink, metallic gel ink)
Are you sure you want to go in that direction?
If you do not change direction, you may end up where you are heading.

~Lao Tzu
[The sketchbook project is explained in this post.]
Stéfan is a medical communication consultant, a writer, a photographer, and a doodler. In addition to contributing posts, Stéfan is also the editor of CASLworks.
Stéfan