Mud Pies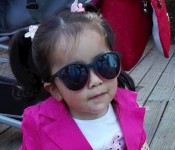 I used to make mud pies as a kid.
In fact, I even had my own mud pie store. It was located right beside the garden water tap underneath the arbor.
You could easily afford to buy my home made mud pies. I sold them for next to nothing.
I may not have made much profit from this enterprise, but the benefits provided by my pie store were great.
As a child, I was never sick. I was healthy as a mud pie.
In the spring, at the end of the day, you should smell like dirt.


Margaret Atwood