Ground Cover Cover-Up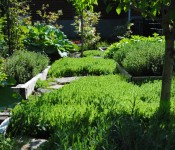 CASLworks Orchard and Herbary is in the midst of a multi-year conversion process. So far, about a quarter of the orchard and herbary has seen its lawn replaced with options other than traditional grass.
For the most part, traditional grass is being replaced by series of raised square garden beds interspersed with rock paths and creeping sedum. What began as one of my many crazy experiments has worked out well and I continue to enlarge this garden.
Because creeping sedum is native and grows naturally on the property, it represented an easy alternative to grass. It grows so well that it carpets the ground perfectly leaving no room for weeds. You may think this type of garden requires much more work than a lawn but surprisingly, this section of the property has become the section requiring the least amount of work and watering.
But honestly, all of this is a cover-up. The real reason I'm converting the lawn to other option is because I don't like to cut the grass. Yep… this elaborate orchard and herbary may simply be a cover-up for not wanting to mow the lawn.