Bulbs Can Sing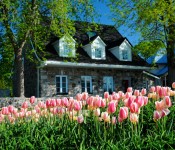 I like well executed displays of tulips and daffodils.
I've never had much luck with bulbs previously, though I must admit never having given them an honest effort.
Large spreads of tulips all blooming at once remind me of a petaled choir singing in unison. All the flowers seem to face Sol, the musical conductor. The gentle breeze sways the tulips this way and that way, all in perfect synchrony. Bulbs are like a garden's interpretation of a chorus, a performance piece that lasts a brief moment, but graces us with an up-tempo show of blooms.
The bulb section of a garden does seem to offer perfect pitch. Yes… bulbs can sing.