Blue Ocean Brim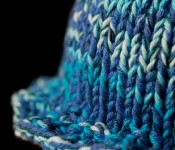 This well-designed hat features a wide brim.
Unlike most knitted wide brim hat that use grafting, this hat avoids any 'grafting scars' by being knitted from the bottom up.
This technique makes a very comfortable brim hat.
These hats can be worn with the brim down all around — or with the back rolled up — or rolled up all around.
These beautiful matching sets are great deals.
Each ensemble combines a premium hat with a matching neck warmer. A neck warmer, also called a circular scarf or cowl, is a better alternative to a scarf.
A neck warmer is compact yet just as warm as a full scarf. In addition, a neck warmer will not drag or stretch out like a long scarf. Plus, it's easier to fold and put away.
A combination of fibres are incorporated into each neck warmer and hat for structural, functional and artistic reasons. Interesting color patterns emerge from these combinations. Due to this, each and every item is a unique creation.
Galley and Shop