Do You Respect Diversity?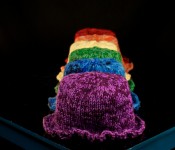 Yes — we at CASLworks do respect diversity.
We are all different — this is ok — it should not matter.
But more importantly — we are all the same. In fact, we are all more similar than we are different. We are all part of humanity and we share this one planet.
Deep down, we all seek to live to our fullest potential, to contribute to society, and to help improve the world.
Deep down, we all feel the same emotions — hope, generosity, joy, sympathy, grief, frustration… But these same emotions also include love. It is the same love.
I would like to thank Francine for supplying hats from her collection for these images. These and hundreds of hats are available at our Shop.