Happy Birthday!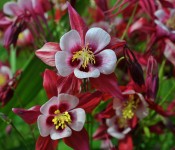 It was 3 years ago, today, that CASLworks began.
Without planning, it also happens that today's celebratory post is exactly the 900th post. What a coincidence!
I checked and we have posted 3000 original photos on this blog so far. Well, this time, it's not a perfect number but, hey, 3056 is close enough.
That averages to nearly a blog post a day with each containing 3 photos. Not bad.
Happy Birthday CASLworks!