What? You Could Fill A Boutique?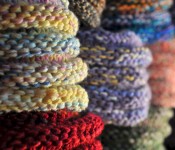 Since I was very young, I have had a dream of owning my own little store.
In fact, I have always wanted to have a hat boutique, a little nook where I could display my own designs.
For me, it wasn't about making money. It was about challenging myself to be creative enough to fill a boutique with my own designs.
I was really curious to see if I could be imaginative and ingenious enough to accomplish this. This is what kept my dream alive. And this dream is what fed my creative flow.
I am not business-minded in the traditional sense so I never thought I would actually own a little store. But thanks to my business partners at CASLworks, I now have my own Hat Boutique.
Support creativity!