The Train Conductor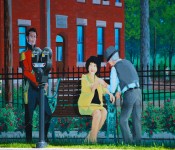 "Tickets, tickets! Everybody have your tickets ready! Tickets, tickets!"
The conductor collected the tickets, row by row, and was getting closer to my seat. I dipped my hand into my pocket to retrieve my ticket but my pocket no longer held it. I searched my other pockets and realized I had lost my ticket.
As the conductor got to my seat, my search became frantic. I started to double check my pockets. I could feel him staring at me as I searched and searched. Finally, I said: "Sir, I have lost my ticket. I cannot find my ticket. Oh, goodness! I am sorry sir." My heart skipped a beat.
He continued to stare at me and blurted out: "Francine? It's Scott. We sat on the bench by the Post Office and talked a while last Tuesday. Don't worry about the ticket."
I had not recognized him in his uniform. While he looked very good in his uniform, the smile that now covered his face made him look even more handsome.
"Thank you Scott."
His eyes twinkled. "Have a great trip Francine!"
His gaze lingered a bit. My heart skipped a beat for a second time that day.