Doodle 37 of 95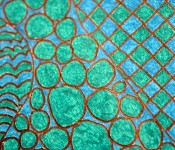 Sketchbook Project – Page 37 – "Your View"
(gel ink)
So, if I understand what you are saying… your view is the only reality? Are you sure about that?
The belief that one's own view of reality is the only reality is the most dangerous of all delusions. ~Paul Watzlawick
[The sketchbook project is explained in this post.]
Stéfan is a medical communication consultant, a writer, a photographer, and a doodler. In addition to contributing posts, Stéfan is also the editor of CASLworks.
Stéfan