Breakfast Included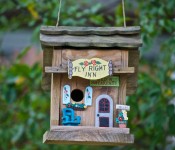 I had some friends who came to town to visit. They insisted on staying at the Bed & Breakfast just around the corner.
To be honest, I didn't even know there was a Bed & Breakfast nearby. It's so close that you can walk over in a few minutes. It's perfect.
The Bed & Breakfast has a funny name that I like. It's something along the lines of… "Fly Right Inn." Isn't that funny?
That Bed & Breakfast is perfect, and I didn't even know it was there.