Water Droplets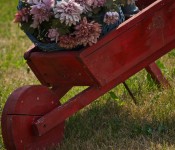 Nothing beats the time I spend working in the garden.
The moment I pick up the hose to water the garden, I find myself submerge and lost in deep meditation.
Only the sound of small water droplets falling on the ground disturbs the silence. At that moment nothing else matters.
 Garden as though you will live forever. ~William Kent