Gardening Your Life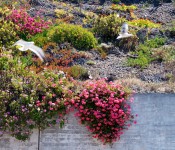 I was working in the garden reclaiming certain corners by clearing them of old overgrown plants, weeding and liberating hidden perennials, and planting new specimens here and there.
I was struck by how much these activities can benefit both a garden and our lives. Yes, our lives can be helped by gardening: reclaiming and clearing, weeding and liberating, and planting anew.
Let me give you examples from my own life. I have been reclaiming and clearing when it comes to writing. I am reclaiming the title of writer and clearing some time to enjoy writing. I feel empowered by doing so.
I have been weeding and liberating certain interests by letting go of old activities and returning to creative pursuits. I am watching less television and no longer aimlessly surfing on the Internet. I have found inspiration in my old doodles and have been dabbling in painting. I am reminded of how much I get out of these creative activities after being away from them for so long. It really is like being weeded and liberated.
For me, planting anew is trying something new, branching out, stimulating your mind with new activities. Walking was essentially my only form of activity until I began cycling very recently. It is stimulating to be able to go farther and discover new pockets in the neighbourhood while exercising.
You see, our lives can be helped by gardening.