What Is Your Number?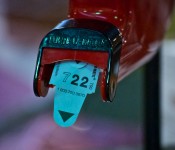 When we are born, we are given a name, but we are also given a number.
Sure our friends and family know us and call us by our names, however, what makes us unique is our number.
We can meet people that have our name and in some cases, both their first and last names could be the same as ours. But what are the chances we are going to find someone with the same security or ID number? You won't – at least not in the same country.
In all we do, and wherever we go, we encounter numbers and more numbers. If you want to play the lottery, we don't play names but numbers. If you want to give somebody a ring, you dial their number. Even when lining up to get your ID card, you have to wait for your number to be called.
Did I get my point across? Your number's up!