Pink Mornings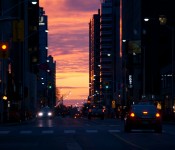 Do you remember the movie Pretty in Pink, staring Molly Ringwald? Yeah, that movie… the one where Jon Cryer from 'Two and a Half Men' plays Duckie.
For some unknown reason, every time I see a pink sky it takes me back to the time I watched that movie. Duckie is a teen age boy with a huge crush on his best friend Andie.
In this movie, unlike other Hollywood movies, the nice guy does not get the girl, but he does meet someone that loves him back. Some say pink is the colour of universal love.
Pink radiates tenderness, comfort and love. The beauty of pink mornings is a reminder that someone out there loves you back.