Melancholy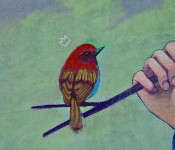 Melancholy has been a part of me for years. This sentiment, which has attached itself to me with a sense of belonging, won't let go.
I have to let it go, I say. Melancholy has to go.
At some point during my life, I have to detach from it before it takes over me.
A remembrance of the past, wish I can't let go, keeps me connected to those I have chosen to forgo.
All changes, even the most longed for, have their melancholy; for what we leave behind us is a part of ourselves; we must die to one life before we can enter another.

Anatole France