It's a Good Summer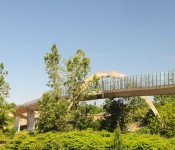 I've resumed taking little excursions on foot or by bicycle. I know; it's just a silly way of saying that I've resumed taking walks or bike-rides.
But the excursions of the past few weeks have been in directions I take less often and have extended slightly further than usual. Even after living in the same place for years, you still can get a fresh perspective of your neighbourhood and surroundings.
Step outside the usual route.
Up-cycle your perspective.