The Little Doodle Face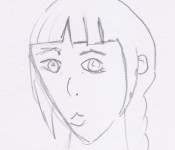 It has now become our tradition: the little doodle face.
I've been sharing homemade food with our neighbour since she lost her husband last year. I feel grateful that this wonderful neighbour can appreciate my eclectic style of cookery.
In fact, she always shows delight in learning what I bring her, often asking questions about my cooking. Early on, I thought it would be a good idea to write down a brief description of the culinary offerings on a piece of paper to accompany the food. The first few times, I added a little smiley face to these notes.
After a few days, I skipped the addition of the smiley face, thinking it was getting old. But as soon as my neighbour saw the note, she said it was missing the face and she declined to take the note. Her eyes twinkled as she giggled. With such an adorable request, it was impossible not to laugh. I picked up a pen, added the smiley face and handed her the note a second time.
Over the months, we've seen this little tradition transform from a smiley face on a note to a quick doodle of a face on index cards, always containing a brief description of the food the card accompanies.
I cannot draw. Indeed, I concede that a great measure of the fun of this tradition is the pure silliness of these crude sketches. But, always, seeing the smile it brings out of my neighbour helps me overcome my self-consciousness regarding my inability to draw.