The Creative Process Is a Force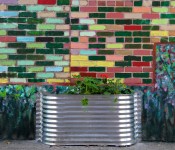 The creative process is sort of an idea crusher and re-assembler fuelled by cognitive, emotional and aesthetic pistons.
It's a matrix of symbols translating impulses.
It's the process of experimenting with various artistic filters and extruders for effective overlaying in output.
This process leads to the dovetailing of ideas, the admixture of motif, and the enrichment of story.
Through sublimation, cross-project success leads to self-actualization.
The creative process is a force. There is worth in harnessing this force.