Graffiti In Valparaíso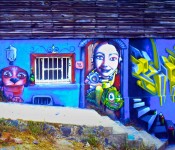 The amount of graffiti decorating the streets of Valparaíso is amazing.
In between sunrise and sunsets, one can loose oneself in a collection of rainbows created by street artists from the neighbourhoods.
Some of the arts are a true representation of the colourful personalities of the people.
Walking the streets of Valparaíso makes me feel as if I have just found the pot of gold at the end of the rainbow.