Bee Tender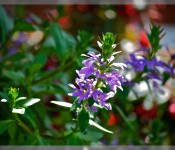 The world is in much need of tenderness at the moment.
If you have extra tenderness, I encourage you to share it with those in need.
Share a smile. Lend a hand. Respect others. It takes so little to spread a little kindness.
It's easy to be extra tender, says the bee.
The bee collects honey from flowers in such a way as to do the least damage or destruction to them, and he leaves them whole, undamaged and fresh, just as he found them.

Saint Francis de Sales