What Is This Silence?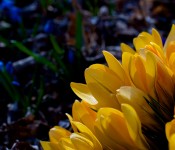 Is this silence conveying a message? Does all this silence mean anything?
This silence means nothing more than pure industriousness.
My time has been taken up by significant work in the orchard and herbary. In fact, the cultivated areas are more than doubling in size this year. That's what happens when one of my pilot projects gets the green light for expansion.
But worry not; I am going to set out with my camera and start sharing some of my new current garden experiments and other gardening tidbits.
Gardening is so fun and rewarding.