Six Great Reasons for Six Words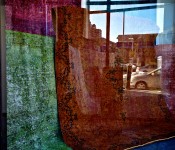 I have been enjoying #sixwords lately. Why, you ask me?
Here are six great reasons behind my enjoyment of sixwords:
Creative — The very best reason I can give is that sixwords is creative. To begin, you already know that I love brevity, but this form of brevity can become a simple filter through which you can extrude creativity. I think it's a format that is deceptively simple yet hides great creative potential. For example, when I don't know how to label one of my eclectic photos on Instagram, I often resort to a creative sixwords. My Instagram account →  Stéfan
Intellectual — The paradox is that the simplicity of sixwords can actualy reveal refinement. It takes a bit of intellect to be creative within a few words. You see, simple people can express complex ideas but they need many words. Brevity is intellectual. Dust off some of that vocabulary you have collected over the years.
Poetic —  Intellectual creativity is rounded out by infusing it with poetic notions, satirical spins, or layered meanings. Writing poetry one short verse at a time is perfect for this day and age. Take my word for it: it flies well on Twitter. My Twitter account → Stéfan.
Intuitive — Because sixwords is simple and self explanatory, people get it from the first time they see it. I have been asked for clarifications several times and each and ever one of these requests were in proper #sixwords format. It's that simple. It's that fun.
Playful— All of these great reasons combine and create a playful forum. You would be surprised at how many people respond, comment, joke, and laugh through sixwords. I have taken part in excellent exchanges with great people on social media.
Enlightening — Despite it's simplicity and intuitiveness, you get to see people through their sixwords. Poetic creativity reveals a little bit of us in each of these short spurts of words. I admire and learn from those who can so effectively use this little playground for intellectual sublimation.