Chaotic Life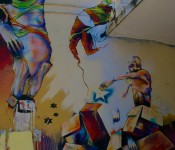 I have always enjoyed a bit of chaos in my life. In fact, a life without chaos is no life at all.
Chaos makes me feel alive.
You see, having a bit of chaos gives me the opportunity to organize myself.
I have always thought that organized chaos represents willingness to improve, involvement in many projects, and a chance to accomplish goals.
A chaotic life is a busy life!
I always wanted to be somebody, but now I realize I should have been more specific.

Lily Tomlin