What Was Your First Plant?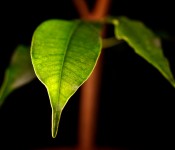 When I rented my very first apartment a quarter of a century ago, the first plant I purchased was a ficus tree.
Because I had discovered early that I had a green thumb, I have always used plants as a way to feather a nest — an approach that became evidently useful back when I was a frugal student. A few plants that were on sale at the grocery store quickly filled my first sparsely furnished apartment.
But I still remember that very first plant I brought home — a large tree, a Ficus benjamina. I didn't realize it at the time but this first plant was going to be one of my best plants.
I know that ficus trees are nearly too common of a plant, but it is one that I have always had great ease in growing and reproducing. From those early days in my first home, I have never been without many ficus trees yet I have never purchased another one. I must now have great-great-great-grand-seedlings from that first parent tree.
Oh — I think this particular tree needs to be repotted. Let me jump on my bicycle to go quickly get some more potting soil. See you!