Winter Gardening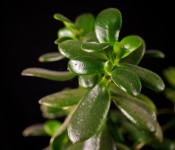 For the passionate gardener who lives in a cold climate, winters can be long.
But then again, I suspect that many of us have indoor plants. Some of us may have lots and lots of plants.
Tending houseplants may not replace those splendid afternoons spent in the orchard, but it does keep you in touch with green, growth and gardening — even if only in it's simplified version.
These jade plants grew from cuttings I took from discarded jade branches a neighbor had added to the compost pile last spring. They have turned out to be nice plants.
I have always liked succulent plants.