Are You Adaptable?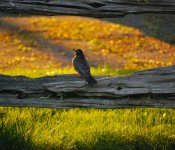 I believe one of the most important traits to exercise is adaptability.
If you think of it, being able to adapt quickly as changes constantly appear around you is a life saver. It is a cliché, but it is very true – everything changes.
Your life has always changed, is always changing, and will forevermore be changing.
Life is gentle for those who easily adapt. I want to be one of these people.
It is not the strongest of the species that survives, nor the most intelligent, but rather the one most adaptable to change.

~Leon C Megginson