My Parents' Garden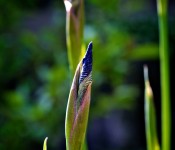 A long time ago, an iris was featured in our family garden around the home where I grew up.
I remember it being a reliable plant. This iris produced stems upon stems of flowers, with each stem parading a succession of blooms. Year after year, this plant spread out, expanding its colored display.
Because of these fond memories, I have always wanted irises in my garden. Last year, two Siberian irises were planted in the front garden. This year, two short bearded irises are also being added.
I love how I have transplanted the precious essence of my parents' garden in my own garden.