201 Sombrero Street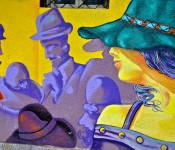 Walking the streets of Santiago, I couldn't help thinking about my friend Francine, the hat lover.
I came across this colorful hat store where one can find a hat for every day of the week – just like Francine does.
Truth be told, I was drawn to this hat store by the mural painted on the street front. This mural tells a story through the hats.
There is a lot to say about images taking the place of words.