Perfect True Love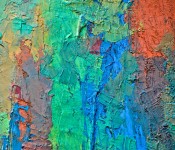 Everybody I know is searching for true love. People want that perfect life with that perfect someone to have perfect little ones.
Life as a couple is great and magical right up to the five-year mark when the true you comes out. It is then that we end up really seeing the person in front of us for what they are and not how we want them to be.
We see their faults – we know their idiosyncrasies – and we see their soul.
At that point, if you still love them, I would call it perfect true love.
We waste time looking for the perfect lover, instead of creating the perfect love. ~Tom Robbins