You Can Let Go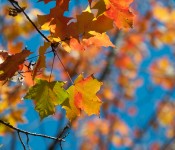 Sometimes, you hold on and you don't know why.
It's probably more out of habit than anything else. You have been holding on for a while and you don't even remember how long. In fact, you may not even know what you are holding on to. But you keep holding on.
The wind picks up a bit. It feels good. You dangle and sway a bit as you keep holding on.
Then, you hear: "you can let go."
It feels like the right time to let go. You let go and gently fall to the ground.