A Cat Called B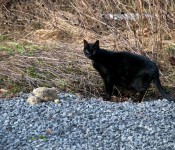 When I lived in downtown Toronto many years ago, I saw this beautiful black cat staring at me through the patio doors.
I immediately though he was looking for food, so I gave him some. It wasn't long before this became a routine: the cat would come a couple times a day for food, and I gave him some.
Having no idea where he was coming from, I investigated his whereabouts only to discover he was jumping in and out of a ripped window screen of a nearby house. I also knew that the older gentleman in that house had passed. I was now dealing with a homeless cat.
This cat kept returning for food, and in no time, he moved into my backyard.
On a cold evening just before winter arrived, I opened the door for the cat to come in. He did come in. I called him B.
It has now been over 10 years since I was adopted by B, the beautiful black cat.