R.E.M.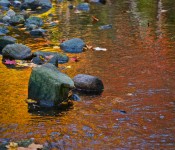 I used to listen to R.E.M.'s Losing My Religion. I really liked the lyrics of that song, but that is not what this post is about.
This is about REM sleep, or rapid eye movement sleep, the fifth stage of sleep people go through at night. This stage is also a favorite of mine because I am a dreamer and REM sleep allows me to dream.
To ensure I experience as much REM sleep during the night, I always think of water. I find the sound of water to be soothing and relaxing.
Perhaps that is the same reason I like to photograph water abstracts. It takes me to another place; it takes me to dreamland.
"The future belongs to those who believe in the beauty of their dreams." ~Eleanor Roosevelt