Autumn Colours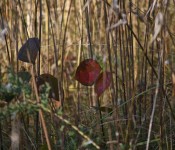 By Carlos.
I have always loved autumn. The beautiful surroundings created by falling leaves are magical.
It is also a reminder that life is continuously changing. Fall gives us another opportunity to fall in love.
Put on a nice sweater, a beautiful scarf and take a walk holding someone's hand.
Every season has its beauty; every season has the power to let you experience life with someone by your side.
(click to enlarge)
Carlos is a management and investment consultant, a photographer and a writer. In addition to contributing posts, Carlos is also a co-creator and strategist for CASLworks.
Carlos