Colourful Memories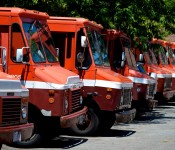 I have mixed feelings about the colour orange. Let me tell you about how it all began when I was a kid so many years ago.
When my parents were buying the last things for what was going to be my new room, they asked me to choose a cushion. Before I continue, you must realize that this happened in the 1970's at the height of the brown, orange and yellow style. My bedspread was pure 1970's and featured these colours.
To be practical and non-clashing, I picked an orange velour cushion that matched the bedspread. Yes, I know… velour you ask? Let me remind you – it was the 1970's!
The following year, I received a bicycle for my birthday. I'm not sure how much my cushion choice influenced my parents, but this bicycle was bright orange. I now had a cushion and a bicycle that matched my dreadful bedspread. Do you see how I could have mixed feelings about the colour orange?
That orange bicycle was the best bicycle I ever had.
The tenuous link between these images is the orange they each feature.