Baby Bok Choy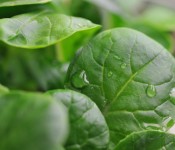 I eat a lot of Chinese vegetables. They are so good.
A while back, when I was visiting a nursery in my hometown, I stumbled upon a package of seeds that yelled: "buy me!"
This package of seeds used an alternative spelling of bok choy and announced the content as "Pakchoi Cantong white." My mouth watered at the vegetables depicted on the seed package. It was quickly added to the handful of selected packages which were going to follow me back home.
After nearly forgetting them amidst my store of seeds, I uncovered it recently as I flipped through my stash of packages. I decided to plant a tray of 12 cells with these bok choy seeds.
In no time, each and every cell of this tray produced little seedlings that shouted: "thanks for buying the yelling package of seeds!"
Are they precious?