A Cup of Mocha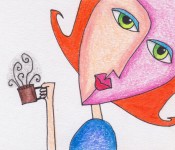 Whether our morning drink of choice is a hot cup of mocha, a delicious cup of hot chocolate or a sweet glass of orange juice, we should always savour the moment.
Sometimes the moment lasts for an eternity, and that is wonderful.
But there are times when we need that moment to last forever, and it only lasts for a moment.
There is no controlling the length of the moment. We never know when the moment is going to end.
Savour your moment.
All you need is love. But a little chocolate now and then doesn't hurt.

Charles M. Schulz
Doodles from the Daily Doodle Face used by permission