Violet Vignettes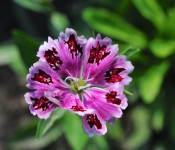 This is a green-filled interlude to tickle the fancy of the hibernating gardener.
Think of these florid descriptions of petalled subjects depicted in blooming images as an ode to the green-thumbed over-winterer.
This page provides the possibility to linger on efflorescent words accompanying verdant pictures for all cabined-up farmers.
This is dedicated to all the cooped-up horticulturists: have your fill of botanical stimulation with this landscaped text and these violet vignettes.