Yellow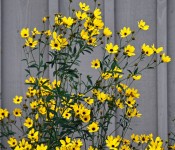 For some, the color yellow is a sign that spring has arrived. At the same time, others may think that the color yellow is an indication that summer is ending.
But do not despair…
It also means that there is something beautiful everywhere we look.
We just have to look in the right direction, despite the circumstances or the seasons we find ourselves in.
You must take personal responsibility. You cannot change the circumstances, the seasons, or the wind, but you can change yourself. That is something you have charge of.

Jim Rohn