Take a Deep Breath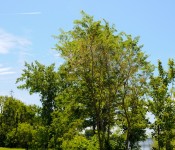 I relish the lazy afternoons spent in warm shade carved out of the summer sun rays.
Rustling leaves, chirping birds and other sounds of nature play on as a perfect soothing sonic backdrop to bright blue skies and lush green views.
Take a deep breath.
Oh; how I love my summer days.