From Seed to Seed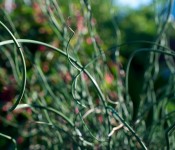 Blue Medusa Rush. Now – that's a perfect plant name, if you ask me.
I had a Blue Medusa Rush, or corkscrew rush, that I kept as a potted plant last decade. I really liked that plant. I would let it spend summers outside. It grew well and flourished for a few years.
These fond memories came back to me when I stumbled upon seeds for this plant (Juncus inflexus 'Afro'). I purchased a packet. These seeds require stratification, or special manipulations to help it break through its dormancy period, but I didn't let that dissuade me. Despite having difficulty getting them to germinate, I ended up with two specimens.
Like the Medusa of my fond memories, these plants also flourished. In fact, they even flowered the second summer. Now, let me tell you that the flower of a corkscrew rush is not impressive. In fact, it's barely noticeable. But even if they may be considered underwhelming, these flowers did give me a crop of seeds which I carefully collected.
From seed to seed.