Gracious Garden Fauna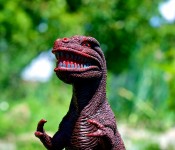 If you have a garden, you have fauna. Oh yes!
There are all sorts of critters and creatures in the garden; from the bees that pollinate, to beautiful butterflies that flutter about, to four-legged animals that walk all around.
Squirrels can certainly be cute as a button, but they sure have wreaked havoc in a few crops. The cultured corn was no match to the uncultured squirrel manners.
Lately, I have noticed some new creatures that hang around. They are, perhaps, not as attractive as squirrels but they sure do treat the garden respectfully. They are gracious garden fauna – they really are. I'm not sure what they eat, but they leave my garden beds completely untouched.
The best part is that they do not seem camera shy.