Purple Passion Flower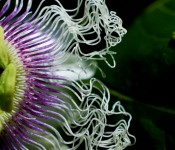 I had purchased a package of Passiflora incarnata seeds, or purple passion flower if you prefer, because I wanted to challenge myself.
Would I be able to keep this type of vine in this temperate climate? Since it's not hardy enough for this area, I would have to treat a passion flower plant like a greenhouse specimen.
Last year, I was able to coax one of the seeds to sprout. Throughout the summer, it grew well, albeit slowly, in a special sunny spot on the deck. Once fall arrived, I brought the plant inside where it assumed a featured spot in my light garden.
Unfortunately, in the middle of winter, I found spider mites on the plant. These unwelcome guests were quickly devastating the plant. In an attempt to save it, I applied a generous amount of insecticidal soap.
I began preparing myself to lose the plant since, in a short period of time, I witnessed all of the leaves, except one, fall unceremoniously. The vine looked so pitiful with its single leaf.
There was good news after a few weeks; I noticed little shoots appearing all over the vine branches. By spring, the plant had bounced back nicely. I repotted it and returned it to its sunny spot on the deck.
I must say that this plant had surpassed any and all expectations I could ever have of this once pitiful plant. It is now covered in luscious green leaves.
… And, it even flowered.